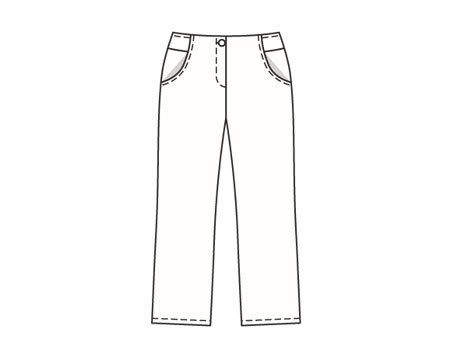 On a review last week, I made a rude (but accurate) comment about BWOF.
Well, I was cursing them to no end last night. I started my muslin of these capris from the April edition.
Here are the instructions:
Stitch darts and press into the middle.

Check.

Stitch the ends of the waistband pieces to the side hip yokes from seam no. 3 to the corner. Clip the seam allowances at the corner. Then stitich the long edge of the waistband pieces on to within 2cm of the side seamline. Press the short joining seams to the hip okes, the long joining seams on to the waistband piece

. Check… Wait… Wah??
Are you kidding me with this? Totally didn't understand. I couldn't even tell what was supposed to attach were. This is what I get for going to a 2.5 dot vs. my safe 2 dotters. I figured it was one of these three:


I posted my query on Burda English over on Yahoo Groups hoping for some help. Luckily, they did.
Becky had this to say:
Ok, #3 is correct. You have a right angle seam to set in the waistband
to the hip yoke.
The business about pinning and unpinning is to be sure you don't sew
together what isn't meant to be sewn together as you do your
topstitching.
However, you need to leave a little of the waistband seam undone at the
side seam, when you attach it to the yoke. That is because you are
going to seam the sides, then finish attaching the waistband. Let me
know if you have other questions, or if I haven't clearly explained.
This design will have a nice, smooth line in the tummy area that will
be very flattering.
Becky
First IYBecky. I may name my firstborn Becky.
Second. I'm too tired and it's too late for me to try it out tonight.
Third. Grrrr, I only cut one facing and I'm out of the muslin fabric. Machts nichts.
There are still six more steps once I get past #2. I hope Becky is online on weekends because I have a feeling I'm still going to need her.
On a happy less frustrated note, May BWTF is here!