I think that if buttons are going to be more decorative than functional, because of the 16 inch side zipper, BWOF should tell you so you won't spend 30 minutes working in slightly crooked buttonholes. I'm just sayin'.
I digress.
I chose the light blue buttons because I thought the dress was kind of boring laying on my sewing table. And Dawn said in yesterday's comments, pick 'exciting' buttons if the dress is plain. Which, I thought it was. But, she is happiest when the buttons are non descript.
Should have listened. Now with the light blue on, I think it looks a little juvenille and the dress isn't plain. So, those are going to come off and the navy will go on.
I tried on the BWOF 5-2007-121 dress to check fit and decide if I wanted to make it sleevelss. I think it's too casual for work sleeveless and I have short sleeves almost ready to go.
At any rate. Note the lovely rip on my front left upper arm bodice. I moved, I heard a rip, my heart sank.
I know better than to clip into seam allowances. I must have just moved wrong and hit a weak spot. The rip is longer than the seam allowance. Erg. I don't know. I've patched it with some interfacing but I'm putting it away for a little bit before I do something more stupid.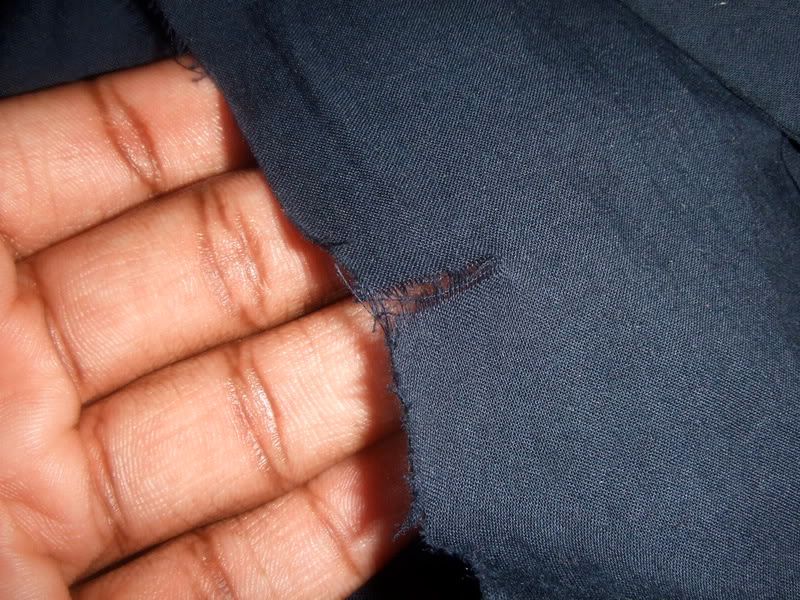 Ok. I'm getting a glass of wine. I'm a little mad at myself.