I chose to cut the bodice of Simplicity 3803 on the bias because I needed just a little give in the bust cup and was too lazy (read: don't know how) to do a FBA. I also added 1/2 an inch to the bottom of the bodice front and back. I took the advice of Marji and the coaching of Dawn to stabilize the neckline and help it hug my chest.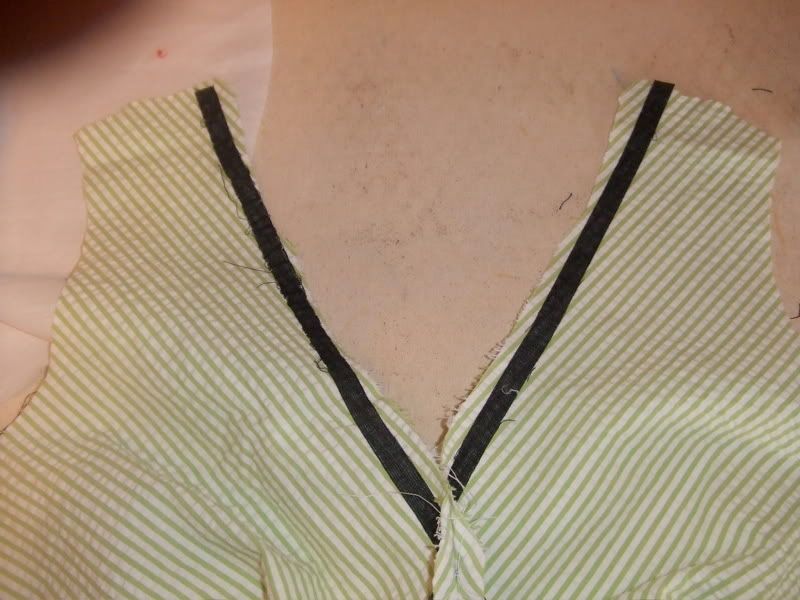 I used some of the fashion fabric selvedge to stabilize the back neckline.
I used the fashion fabric as the inside lining for the waistband. I just think it looks more interesting this way.

To gather both the skirt and lining I stretched and stitched clear elastic. I HATE gathering with that two rows of thread nonsense. My bodice lining is a pink poly/cotton batiste from Joann's.

This pattern does not call for a skirt lining but I highly recommend it. Otherwise you may find the skirt in between your legs while walking. I lined the skirt in a white 100% cotton Italian batiste (imagine the softest thinnest lightest bed sheet. That's how good it feels) from Metro Textile's.
I then serged both sides of the bodice back so I could have a neat invisible zip insertion.
Fits like a dream in the front. I cut a 12 for the bodice. Next time (if there is a next time) I'll make a 12 in the front and a 10 for the back. There's a touch of extra space back there.
Skirt is constructed and attached, all that's left is the hemming! Hopefully by this upcoming weekend and in time for a summer party it'll be all done.