Can I complain for a moment before I show you the good and the bad of the sewing today?
When I walked into a party tonight, I was introduced by the host to an older woman. The woman said, "How come a nice young woman like you is here by herself?" I smile politely not really having a reply and she says, "You must be doing something to keep the men away." Umm, right. That must be it. I excuse myself for some sangria.
I am later introduced to the newish boyfriend of a friend. He says, "You're not what I was expecting." I ask him what he was expecting and he says,

"I heard you were 30, single and made your own clothes and just figured you must be a hag."
I think there's a compliment in there somewhere.
***
On to the sewing.
After seeing all these cool welt pockets on the blogs the last two days, I thought I would whip out an eBay find from last year. The Dritz Bound Buttonholer.
Here's what I got the first time out:

It's not as good as Tany's. But, I'm a girl who loves her gadgets! Plus, this was my first attempt ever (I didn't use any interfacing either). Makes me kinda want the double welt pocket maker that Clothilde has (pockets up to six inches in length).
The item has been discountinued but there is one on eBay now. I also think you could use the pocket maker mentioned above to make bound buttonholes.
***
The jacket is coming along. The pockets are so stinking cool with the little tab and all. Hmmm, should have changed the grain direction of the tab. That would be perfect.


The triangle facing, not so cool. I don't know what happened here. And I honestly don't know if I feel like fixing it.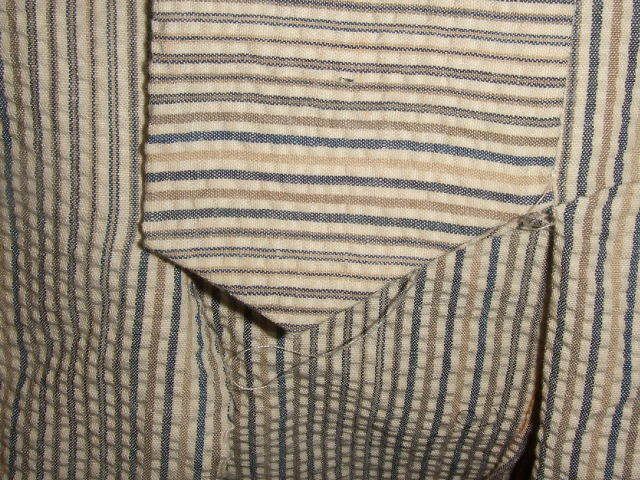 I could just make it straight across the bottom. I could also redraft the bottom to correct the off center point. Or I could just leave it alone and tell myself no one (but you all) will notice.
I love sleeves that are supposed to have tucks and gathers. Can all my tops have this please?