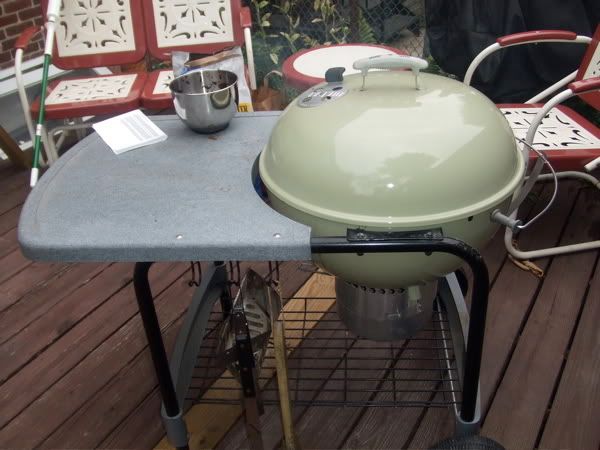 The only thing I did with my jacket last night was move it from the sewing chair to the sewing table.
But, I did smoke beef ribs for dinner on my apple green Weber. There are no actual photos of the ribs because I was busy sucking down ice after I burned the roof of my mouth eating them as soon as they came of the grill. You cook something for three hours and you'd be little anxious to eat it too.
And this followed me home last night from Craigslist.
Now, it does zig zag which my Morse doesn't. And it works with my buttonholer. So really, I needed it. Yeah, that's right. Needed. I negotiated it down to $25 — they wanted $40. I think they really just wanted it out of the house. That's a small investment for a backup machine, right? Right?
Yes, yes. Just last month I showed you the vintage Necchi. But, it needs rewiring. And he who gaveth the gift took it back to re-wire. Can't really pressure someone to hurry up when they are doing it for free.
What else… ahhh, buttons. I bought two sets for the jacket and have decided to go with the double button on the top. The JHB brand was 40% off at Joann's this weekend. So I got about a dozen for about $3.
And, there's another bound buttonholer on ebay. For those who might be mad I put that on blast, I won't post the next time one is listed :)