Welcome to the most blogged about project ever. In case you've lost track, I'm working on OOP Butterick 6408.
My mom might not be able to thread a sewing machine, but she looooves to sew by hand. I though, do not care for it. In my defense, I have tendonitis and it's very hard for me to hold on to a needle. As evidenced by my stopping after completing three roses. I'm going to go pop some ibuprofen and wrap my little paw up in a heat pad and save the others for later this week.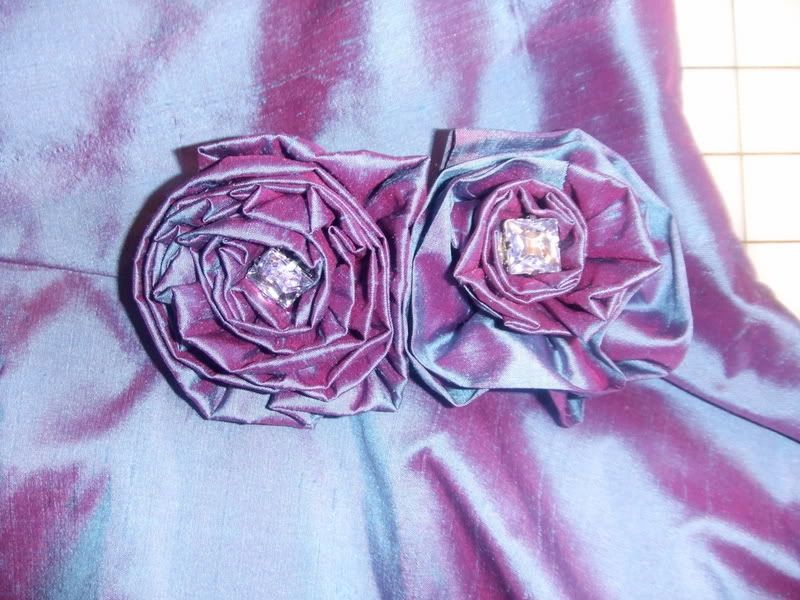 I'm following the Schaeffer technique, but I did cut the flowers in half width wise. The first was was too 'bud' like for my purposes. Also, I like them to be flat on the bottom. I got the little gem stones in NYC during PR Weekend. I think it's a cute way to add some sparkle. My other three stones are smaller and I'll use those for the strap flowers. The flowers are about three inches in diameter. Any bigger and I'd feel like Dorothy Dandridge on the set of Carmen Jones.

Sooo, I'm thinking about how to actually attach them. I don't want them flopping about. I think I need to interface / reinforce where they are going. Or, I guess I could make a few pins. But, I think the pins would definitely flop around.

And, if you came by my house today, you would think I'm that crazy woman with too many cats. I'm wearing red sweatpants, my mom's 1980 long peach robe, black socks and my dress shoes. I needed the practice with the heel and I'd like to break them in.