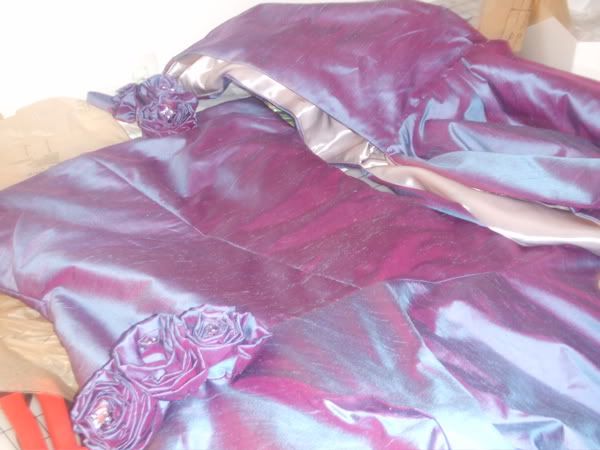 Wow. It's been almost a week since I've blogged. Work has been crazy busy and the social side of my life has picked up.
First, the dress and hood are done!!! I sewed the last flower on last night during SNL. The inaugural ball is Tuesday so I'll take photos that night. I promise, pictures of me in it by Wednesday.
I spent yesterday suit shopping with Tuesday's date. Mr. Hunkle (his last name is Gunkle but the sixth grade girls at the school he teaches at call him Mr. Hunkle on myspace. Hilarious.) bought a beautiful suit. Very excited that he will not look like a bag of skittles in his olive suit and yellow shirt.
Turns out I overpaid my escrow last year and they give you a refund for that. Soooo, Christmas came early for Cidell.
It's a Consew gravity feed iron. Just $99 on allbrands.com. There are no words. It's so lovely that I even ironed two shirts for my roommate. Love. It. Ann has had one since '04 and says it's still going strong.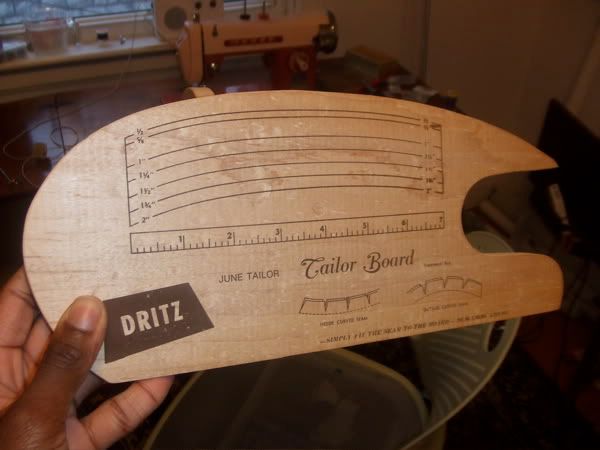 I finally found a vintage tailor board for less than $10 on eBay. I've seen these for 4 and 5 times as much. Not sure how I got so lucky. How do you use it? Dawn has some great details at The Secret Pocket.
Remember the pink thing I was obsessed with two weeks ago? Still obsessed, but thanks to Lisa the domestic diva, I tracked it down. It's a 'Merry Wheel'. This ivory version will be a gift for someone this Christmas. I'm still on the lookout for the pink one for myself.

I've been doing alot of reading on construction. I've become much more careful about construction and technique in the last year. I picked this book up a few months ago after reading Caroyln's critique. Excellent.

So what's next now that the dress is done? I'm not sure. I'm a little sewn out. I might eek out a few Christmas gifts, some pants, a dress for church in Panama this January, but definitely no Timmel SWAP. The wardrobe pattern clause was too limiting for me. But, I will likely do my own wardrobe planning through the spring.