Gentle Readers,
I know I haven't been quite as active a poster of late. I haven't had much time as I was asked (read: told) to take on a massive project at work that will occupy my every waking thought from now until August. I imagine I can do it because I have to, it just means I will have no life. There better be a bonus for me next Christmas is all I can say.
---
So, speaking of Christmas and having a life…… I've got a Christmas / birthday party to go to in less than 10 hours and I'm trying to crank out a dress which currently looks like this. And I still need to get cute (do my hair, nails, spackle on makeup, etc.).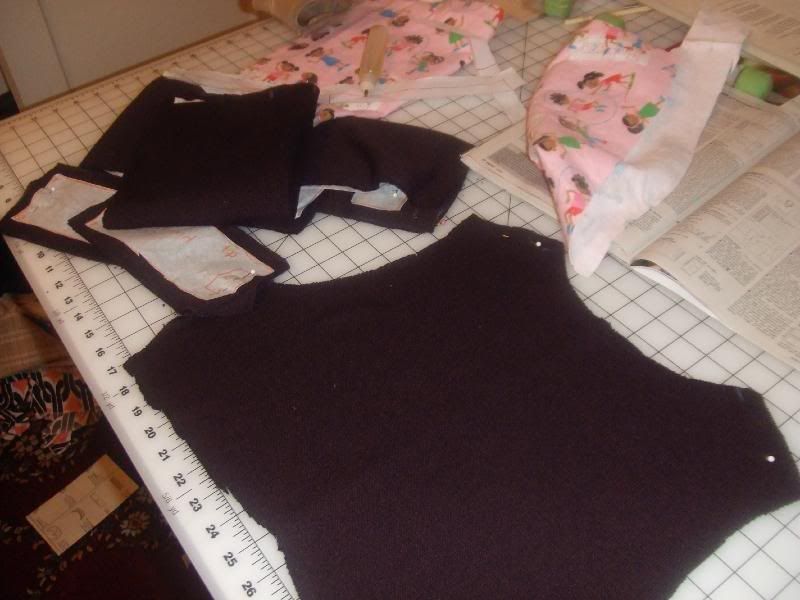 HAHAHAHA! That's my slightly panicked maniacal laugh.
Here are the matching shorts for the intern's pjs….. yeah. I'll do it tomorrow.
Wanna see how a single girl cooks? Last night I made 10 individual turkey pot pies. This shot is actually inside the freezer. They'll be great for lunch over the next two months. I made the sage biscuit topping separately so the pies could be defrosted and the biscuit tossed on top during the final baking. The pots were bought about 20 years ago when we lived in Germany. I took ownership of them when my parents moved to Panama.