When I came back from Ghana earlier this year it was kind of late in the season to work with any of the fabrics I picked up. Next month I'm visiting my mom in Panama for two weeks. Considering today was a balmy 37 degrees in Baltimore and it's in the low 80s there, I'm making a summer dress.

I've been 100 percent in love with this 5-2007-124 BWOF dress since it ran. Then I saw Summerset's version using a border print and I knew what I was going to do with it.

I've chosen this green, white and black print cotton with a top and bottom border. The fabric is just 40 inches wide. I've cut the skirt to take advantage of the bottom border print.

This is also my first time working with the BWOF featured pattern. Look at this!! Not only are there two pages of illustrated directions, the pattern pieces were so easy to find in bright pink! Oh, happy day!

For the waistband, I decided to piece together the top and bottom border to make one unique piece.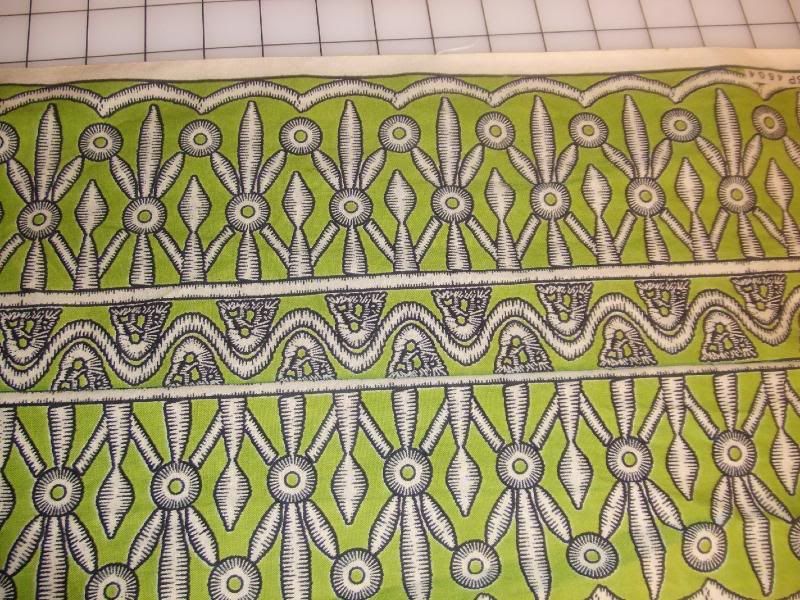 I really wanted to use the 'middle' border in the waistband (above), but the waistband wasn't large enough to effectively show the the two designs. So, I decided to show one small white line between the two border prints.

Seamless, huh?
I'm putting this aside for the next few days. I need to make two more pjs and a hostess apron for holiday gifts. But, so far, I am very pleased.