I had little actual sewing time this weekend, but I managed to make the narrow shoulder alteration on my muslin. The right shoulder point is higher than the left shoulder point (unsure why).
There are still annoying drag lines on the front sleeve.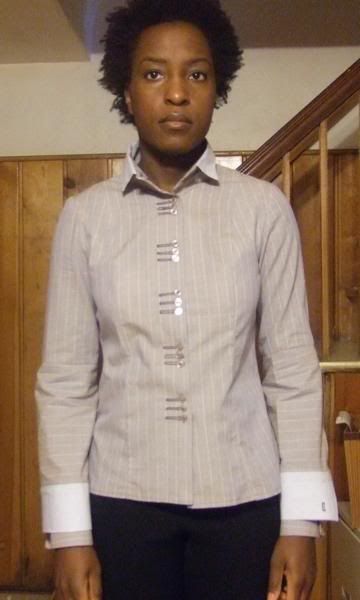 Marji and assorted women rom my ofice reminded me that a fitted woven shirt won't have a ton of give. I do need to get used to that. But, it now feels tight across the neck. Below, you can see the pull lines on the top three shirt buttons. Which it may have before and I don't recall.
Look at the back neckline below. See how the fabric seems to be creeping up over my neck a little? I think this gives creedence to my having forward shoulders. And, those wrinkles at the arm… they remind me of a sloped shoulder adjustment I made last year.
And, you can see that the shoulder seam is pulling forward a bit. That could be from the shoulder adjustment (I took the excess in at the princess seams). Marji thought this might be the case last week.
So, what do you guys think? I think I need to take some actual measurements of myself (!) alter my pattern with a forward shoulder alteration, increase the ease on the upper arm, make the shoulder point adjustment, add a wee bit to the back and see how that fits in a second muslin (a muslin with far less buttonholes).
Whew.