Hidy Ho Readers,
So, the last few days have been super busy. I think my mom is worried I may have been carjacked.
I'm popping in for one bit of news. I am a big hater of tax refunds. I see no point in letting the government take my money and keep it for a full year only to get excited when they give it back to me in April. I also hate all those 'free e-file' and 'rapid refund' places (nothing rapid or free about it). I go on a rant whenever my friends say they are scared to do their taxes but, I digress. Due to a change in job (and salary) last year and a change in my property taxes (more, grrrr) I ended up with a tax refund.
Being a responsible (ha!) person, I put 2/3 of it away in my IRA and the rest went to this.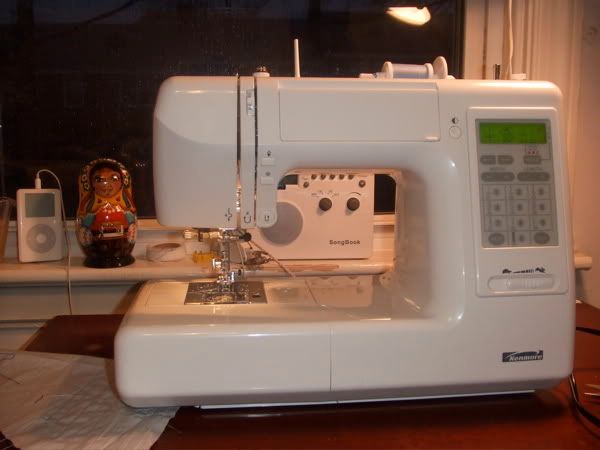 Yeah. I joined the 21st century and got a computerized sewing machine. I didn't go in and test it out, I didn't bother comparing its features with other machines. I didn't obsess about which one and solicit a million opinions.
I had been reading about Kenmores on PatternReview. I broached a 'new' machine with NiceGirl and Carolyn. One pretty much offered to drive me to Sears and the other practically put gas in my car.

So, while politics at home have kept me running, I've also been playing around with this a little and I'm in love.

Not that I don't love my 1965 Morse. I do! And I'll still use it to quilt and teach. But, it was time to enter the world of automatic buttonholes, twin needles, knit stitches and free arm sewing. And, I wouldn't really travel with this, but that's why I have my little Kennie.

I should add, I'm still wary of computerized machines as I bought one three years ago and it was a bloody PITA and lasted less than a year. But, this one isn't a Brother and it's a higher end model built by a reputable company (Janome). Let's hope for the best over the next five to 10 years!

---
And thanks for the hints on the shirt. I totally wore my muslin to work on Monday and had several compliments on it. Nicegirl and I are getting together on Sunday or Monday. We'll do measurements then. I think it'll be interesting for me to compare mine with the pattern. Based on that, I can make some adjustments.