I spotted the rayon Rachel Comey Dune Top on the 11 Honore website for $575. I really liked the sort of reverse notch collar and felt it would frame my face well as it mimics my jaw line. After asking on Instagram I was directed to Lekala 4711 which is an almost perfect match. A few details are missing: yoked back, sleeve cuffs, high low and split hem — but otherwise is ideal.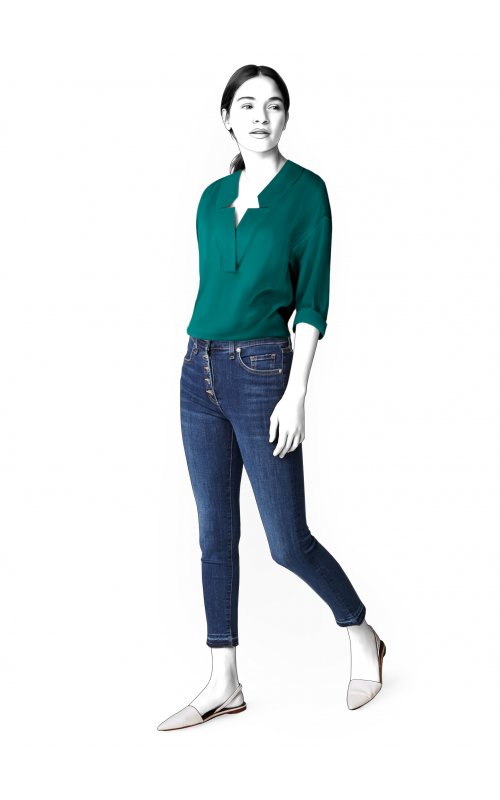 I have heard of Lekala's custom size ordering but knew it wasn't perfect, especially if I wanted accommodation for my bust. I entered for my upper bust, bicep, waist, hips. For additional options I did say narrow shoulder width, short neck and larger arm. I like that I could account for stomach projection, but I had no real idea what to do with my protruding seat.
Fabric: For this project, I used a red silk stretch charmeuse from my stash. I have about five cuts of silk charmeuse that I've avoided using until this year. The cuts are at least ten years old and were planned to be shells under suit jackets. Well, I was scared to sew with slippery silk charmeuse and I stopped wearing suits every day. The fabric proved challenging but I'm really proud of myself for finally starting to sew it. But, in some lights and angles, you can see that my bust points aren't as smooth as one would want.
Pattern: Listen. It's a $3 pattern. If it's well drafted, I have no complaints. I could not recommend Lekala to anyone who isn't WELL versed in construction techniques. I truly sewed this on my own. The collar instructions didn't make any sense to me and I had to wing it.
To make my FBA, I added in a French dart which might be my new favorite way to get bust shaping into a garment with cut on sleeves. It allowed to to add width and length but keep the easy pull over look. My darts were way too high and I shortened one by 7 cm. I have some darting happening above my bust, but I don't think there's much I can do about that.
I basically made up how to sew the collar and lapel. The directions made ZERO sense to me. I sewed a sample first. Then totally sewed it differently on the actual garment. The pattern isn't well notched tbh and I managed to put the collar together backward the first time. I had to resew the collar after I'd graded and trimmed my seam allowances, so the size is distorted. I also topstitched the lapel down using a "fine" thread since it showed my bra the moment I moved (I now own some slim tanks so maybe I'll unpick this stitching). I'm pretty salty about how the collar isn't well matched, but it's on me. I would add a notch here, indicating how the collar and lapel should line up.
The sleeves are pretty spiraly. I have a few theories. First, I've read dropped shoulder sleeves will always have drag lines. When entering my measurements, I said the bicep should be larger in addition to putting in my bicep measurement. I think that's not needed? My biceps are 14.5″ but it's not (as Oprah calls them) a set of flags. So I don't need extra ease, I just need them to fit. I may have cut them off grain a bit? Or because it's silk charmeuse, it doesn't have enough structure to support the sleeve. I also think the drop is a little too wide and I would try shortening that by about 1″.
I also made the top high low by shortening the front by 6″. I used guidance from the Bunka "Blouses and Dresses" book to sew this. Basically, you serge the blouse side seams down to 2cm past where the slit begins. Sew the side seam with 1.5 cm seam allowance. Then 2 cm from where the slit begins, you'll sew at 2 cm seam allowance to the slit. From there you press and topstich the slit and hem into place.
I hemmed the sleeves using a "narrow hem topstitch" technique I found in the Singer Guide to Specialty Fabrics. I did not do this on my garment hem and I have rahgrets, lol.
Whew. Overall, I'm pretty pleased. I've always wanted elegant silk blouses. I love the collar design and it suits me well. I think two will be enough. I don't have a silk blouse life anymore, but it'll be nice to have something to wear out — when we start going back out. I'd give this effort a solid B- overall, but hope to improve to an A- in my next version, which will be black. But maybe not silk charmeuse because I don't think I have a more-than-one-silk-charmeuse-blouse life 😆.