I've wanted a semi industrial, straight stitch only, sewing machine for many years now. Why? I wanted the speed and precision of one of these machines, without the bulk and space of a full industrial. I've always believed in having the right tool for the job. Most modern domestic zigzag sewing machines just do more than I need with decorative stitches. I decided / jumped finally at the 2020PE from Juki's TL series because it's a beautiful platinum colored metal (metal not plastic) and came with a set of quilting feet that I don't need today, but wanted the option of having down the road.
I've hesitated on purchasing one of these TL machines for ten years because they cost more than your average vintage household straight stitch machine. My Bernina 1260 from 1994 has served me quite well, but wasn't up to some of the tasks I had in 2020. While sewing more masks than I will ever sew again in my life, I found the stitching unreliable, the tension glitchy and sometimes it would only sew in reverse or have a satin stitch. Not often during my regular course of sewing, but if I had large amounts of sewing like curtains, quilting or mask making, I just switched to a vintage straight stitch for reliability.
I haven't bought a new household sewing machine in 20+ years, always preowned. But, they are also 50% faster at 1500 spm with more piercing power. I've read about the vintage machines like the Pfaffs and Singers and have a lovely Singer 201 myself, but I wanted (like really really wanted) the needle down default, a built in thread cutter and a knee lift. Bonus, it also takes household sewing needles. I bought new because I wanted this limited edition, twenties-themed platinum version and I have christened her Josephine Maker in honor of Roaring Twenties African-American Parisienne Josephine Baker.
---
I wanted to use Josephine Maker a little before I give a full on review. But here are my first impressions: solid, fast and beautiful.
The TL series seems marketed to the quilting and handbag market in the United States and I think that's a mistake not to promote to gaement makers too. Well, it's a way to get you into a higher end, computerized zigzag machine

Here's a look at the feet included with the Japanese version. They are all industrial sewing machine feet geared to garment making:
*compensating feet are used for top and edgestitching.

And the feet in the US, 90% quilting:
The Japanese feet are general sewing feet including a teflon (smooth), invisible zipper and industrial zipper foot. The US version is mostly quilting feet with a zipper and hemming foot included and the zipper foot is the home sewing machine style.
---
A feature I deeply wanted was to automatically cut thread. On the TL Series, you can cut your thread via the pedal by pushing down on your heel. There's also a speed control/ governor button on the machine front for cutting thread.
While you can also control speed on the front of the machine, the presser foot is responsive to speed and I think the governor control is useless for me since I just keep it at "rabbit".
The Japanese version of this machine has a separate pedal for cutting next to the foot pedal. After a few accidental cuts by pressing my heel backward, I was easily able to not do it when I didn't mean to. They also include a rubber stopper you can put behind the pedal if it's just not your bag.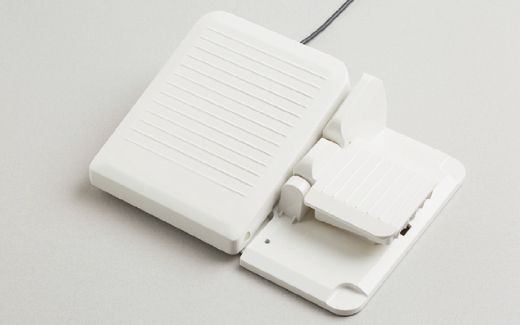 The presser foot pressure and tension dial have FAR more play than any domestic machine I've worked on. My fabric DOES NOT MOVE when under and sews perfectly straight. No drift whatsoever and the accuracy brought a tear to my eye. I was also able to reduce the pressure easily to work with lighter rayon fabric. It just has a wider and visible range for presser foot pressure than I found in a domestic. I used to just turn the knob on top and guess if I the right amount of pressure.
I will say it took some getting used to install the bobbin. Not a criticism, it's just a little different.
The machine can also takes full size cone thread, so I was able to use my serger spools and plan to buy the basic neutral colors in these larger, less expensive spools. Also, and this is a big plus to me, it can handle heavier topstitching thread that liked to choke up my domestic machines.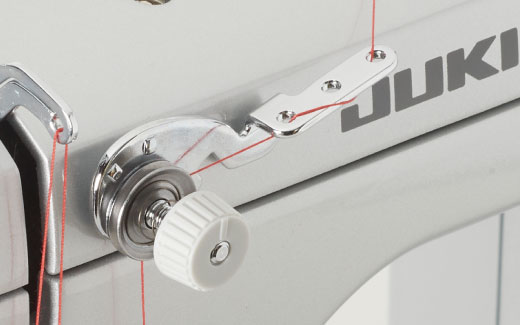 You can still sew buttonholes if you use a high shank buttonholer. I still have several machines with this capability, so it is not at the top of my priority list to track one down. They are sold on the Bunka website and ship internationally now (you'll need to use Google Translate).
---
All this to say, if you're an avid garment sewer, I don't think the TL series should be overlooked. Think about it. In a commercial sewing environment, industrial straight stitch machines are the norm. I have a second home sewing machine if I want a narrow zig zag. But I also have a serger and coverstitch too. I do sew knits, but the bulk of my wardrobe sewing are wovens, and I just need a straight stitch for those.
As a gadget girl, I also really love the ability to use generic industrial feet. I'll elaborate in another post on these feet because as a home sewer, it is a whole new world. Each of my generic industrial feet are $7 vs say $35+ for a Bernina foot. Since your needle position on the Juki doesn't move, you can use feet of varying widths for perfect edgestitching and top stitching. I also invested in the industrial version of the zipper foot instead of home sewing version that came with the machine (again, the Japanese version comes with the industrial hinged zipper foot).
Another bonus is you can purchase separate feed plates for fine or heavy duty material. Fine being something you might sew with a 9/11 needle and heavy for sewing with a 16/18 needle. What??? So, most of my sewing is done with a 12 or 14 needle. If I wanted to sew something reallly thick (maybe heavy shearling?) I'd want a larger needle hole so the needle doesn't run the chance of hitting the sides and provides more space for these heavier threads. Same with a thin material, you want a smaller space so the fabric doesn't jam up in the hole.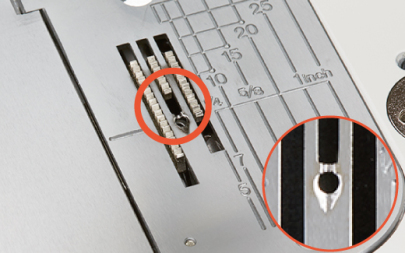 On my Bernina, I sewed with my straight stitch foot and plate whenever I could. I found it better for preventing material to get jammed in the needle hole. I have put a bug in my husband's ear to tell my inlaws to get me a set for my birthday next month. Or some new baking dishes. Or a few books on fitting 🥴
There are a lot of different TL models and it can be confusing! Here's a comparison chart. Note the 2200QVP is discontinued. The Haruka TL-18QVP replaced it and is only available from quilt shops. The 2020PE that I have is basically the same as the 2200QVP and the TL-18QVP. You can of course but online. But my local dealer was the same $1549 price since it's brand new. But, also… Support your local community and shop local.
So far I've worked on upgrading some IKEA curtains and what a delight to not have the heavy material tug and pull at my machine. I did adjust the tension because I used a larger needle and the stich had not one bobble. The 2020PE is about 38 pounds, so it's a beast against heavy drapes. I do have more home decor projects planned for this year. A quilt for my living room, throw pillows, seat pads for my dining room chairs and more curtains. I was dreading them on my Bernina because straight line sewing is made worse when the machine feels slow. My Bernina (Berleanah, the Baltimore Bernina) is around 900 stitches per minute, Josephine Maker tops out at 1500 spm. Even when I am pedal to the metal on the Juki, it's still well within control range on a straight stitch and I could have skipped the speed control. I believe a true industrial is up to 5500 spm which is way more than I need.
Obviously there should be some negatives, right? For me, this wasn't a negative, but for others not having a free arm is going to be annoying. I've long sewn things like pant and shirt hems from the wrong side anyway to get an accurate stitch. I'd also note the needle not adjusting could be frustrating, but that's what the different industrial feet are for. So, real negatives for me….
The light isn't good and doesn't spread much to the harp area, so I added an external light.
That's it.
So that's my initial insight into the Juki TL-2020 PE. I will reiterate that you by no means need the 2020 PE. The PE is limited to 2,000 machines in North America — but I don't see a world in which they all sell this year? Then again, it took me 20+ years to buy a new from store machine and ten years of thinking about a TL so I am the WORST sewing machine customer. The 2020PE is super pretty, but unless that really matters to you, look for a TL 98, 2000, 2010 and always check and see if you can find one preowned. I found a similar model of the 2200 QVP (white) for under $1,000 pre owned on Facebook Marketplace. I think the TL98 or 2000 sells new at my dealer for under $800. The platinum edition was a treat to myself and a splurge.